South Korean Nayeon was a spry, playful kid. Then she suddenly fell ill with hemophagocytic lymphohistiocytosis (HLH), a life-threatening disease of severe hyper-inflammation caused by uncontrolled growth of the body's white blood cells. She suddenly died and her mother felt sorrow about her and she wished to see her again, according to Road to VR.
Called 'Meeting You', the documentary South Korean video goes on to recreate a series of warm memories from Nayeon's life. Donning an HTC Vive Pro, Vive trackers, and wireless adapter, Ji-sung revisits a virtual version of a park the family would frequent. Nayeon giggles, and cautiously asks her mom if she's afraid. She wonders why it's cold outside. Touching hands, they're both lifted up to a heavenly realm.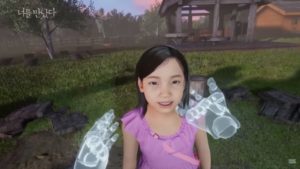 VR experience is no doubt impressive for a short while too, but at this point it's really no more than a carefully orchestrated funerary rite. It's that point in the future though when AI is capable of automatically conjuring a person based off a compendium of video and photo that we're waiting to see. Because whether you like it or not, virtual humans are coming, and I think we've just taken one step closer.